The motto for starting a blog can be anything from growing your business to spreading awareness to sharing your thoughts and ideas. When you decide to go online, you get so many options that ultimately, you get confused and may get discouraged. Here, I am listing you on how to get started on WordPress. wordpress.com is so powerful, flexible, intuitive and pocket-friendly that it has become a synonym for blogging.
If you just aim to write articles or some random thoughts, then you may want to check out medium. It's a wonderful platform and you'll love the reader and writer community there. But if want to build your own blog that reflects your tastes right from the content to website design to how everything works, go for WordPress. It gives you the flexibility of a programmer. That is to say that just like a programmer tailors websites according to his needs and tastes, you can achieve the same with WordPress without actually writing code.
Getting started with wordpress.com
Go to wordpress.com and click on Get Started. Starting a blog involves 4 steps.
Step 1
You have to enter the basic information like the website's name, its description, the purpose of the website and your level of expertise in creating a website.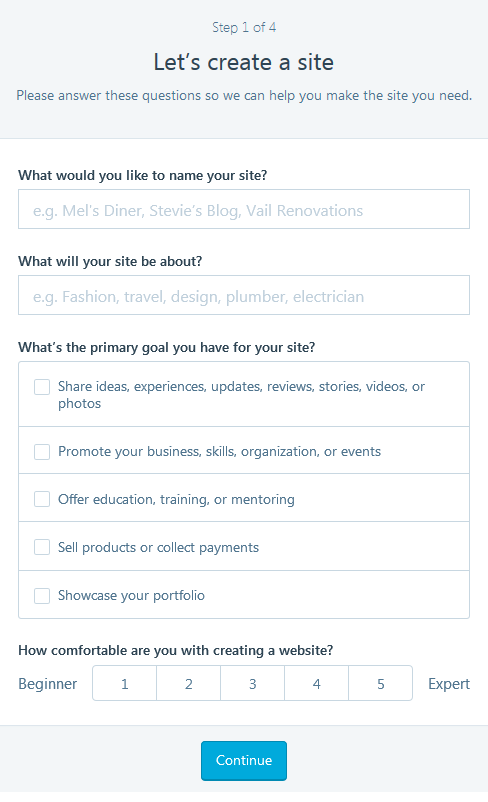 Step 2
Next, you'll be asked to enter a domain. A domain name is the name of your website like theengineerscafe.com, google.com, wordpress.com, etc.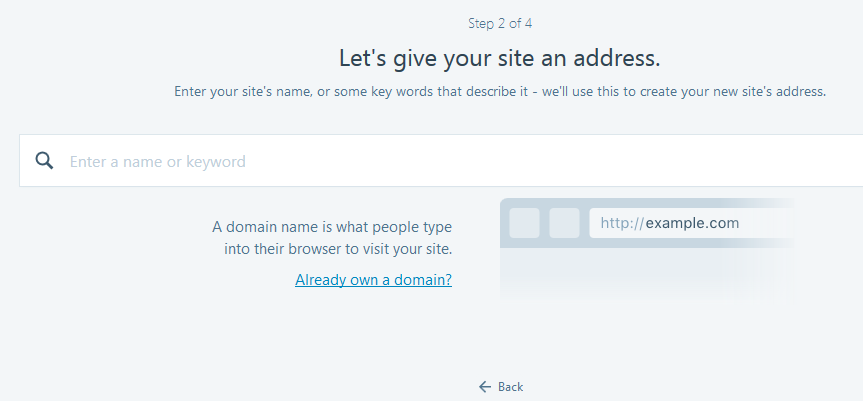 Now, there are a few options. You already have a domain. In that case, then you have two choices.
Transfer the domain to WordPress
If you transfer the domain to WordPress, you have to select a paid plan and pay the domain transfer fee and that is specified beside the domain.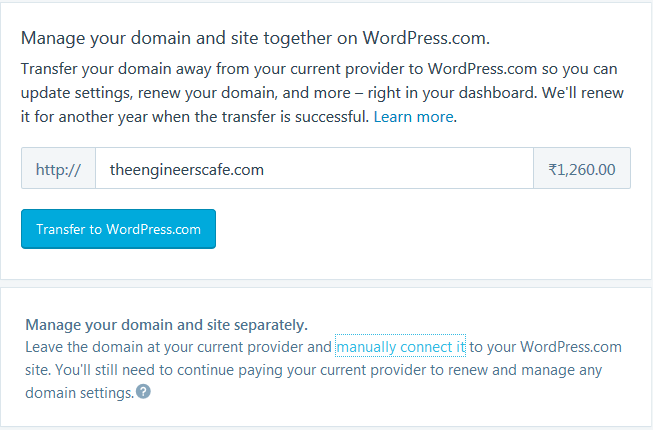 Map the domain to WordPress
You can also keep the domain at your current provider and just map it to WordPress. Here, there are no transfer charges.

If you don't have a domain, you can either buy it through WordPress or from any other website.
In case you don't want to purchase a domain, then type in a keyword, you'll get paid and free options. The one that is free is a subdomain of wordpress.com (yourname.wordpress.com)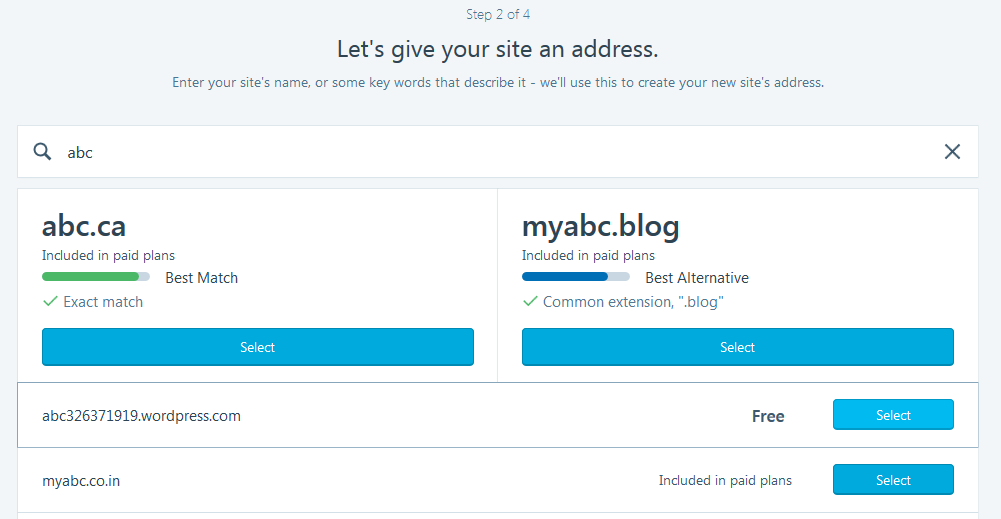 Step 3
Now, you have to select the hosting plans. Check out the Plans page to get all the details. I am just listing the overview here.
Free
This costs you nothing provided that your aim for the website is really limited. You cannot add a custom domain; you cannot monetize your website; you cannot add any third-party plugins. If that's fine with you and you just want to add posts to your website, then you are good to go. You'll have a blog that doesn't cost you a dime.
Personal
This plan allows you to add a custom domain. So, you'll have a website with the name that you like and of course, the one that is not taken. You can also select free WordPress themes and do limited customization.
Premium
This plan is by far the most popular plan. Since it doesn't cost much when compared to the Personal plan and gives you freedom of selecting premium themes and customization. You also get to monetize your site and hence start earning from your website.
Business
The business plan serves everything that WordPress has in its kitty but costs a bit more if your blog is just a hobby to you. If you plan to get serious about your website and don't mind spending the money, go for this plan.
| | | | | |
| --- | --- | --- | --- | --- |
| Features | Free | Personal | Premium | Business |
| Cost | Free for life | Rs 200/month billed yearly | Rs 350/month billed yearly | Rs 800/month billed yearly |
| Domain | WordPress.com subdomain | Custom domain | Custom Domain | Custom Domain |
| Jetpack essential features (SEO, spam protection, social sharing, statistics, etc.) | | | | |
| Support | Community | Email and live chat | Email and live chat | Email and live chat |
| Themes | Free Themes | Free Themes | Unlimited Premium Themes | Unlimited Premium Themes |
| Customization of theme | Basic | Basic | Advanced | Advanced |
| Storage | 3GB | 6GB | 13GB | Unlimited |
| wordpress.com Ads | Yes | Can Remove | Can Remove | Can Remove |
| Monetize your Website | No | No | Yes | Yes |
| VideoPress Support | No | No | Yes | Yes |
| Install Plugins and Upload Themes | No | No | No | Yes |
| Integrate Google Analytics | No | No | No | Yes |
| Remove wordpress.com branding | No | No | No | Yes |
So, this is all that you need to know about starting a WordPress blog. In the next article, I'll cover WordPress.org which is free but you got to have your own hosting plan.