WordPress is an excellent platform for creating professional looking websites, especially blogs. You don't need to be a professional to create and set up a blog. You can create a blog using WordPress in two ways. Use wordpress.com and get started in a few minutes. I've covered all the basic steps of getting started with wordpress.com here. The other way is to buy a server hosting and set up your own website. This article is all about setting up a WordPress website. So, without further ado, let's get started.
Our website is hosted on Siteground, so the information is based on our experience. However, I've tried to keep the information as general as possible to make it applicable to other hosting providers too.
Domain Setup or Transfer
If you purchase the domain along with the hosting, there is nothing to be done in the domain setup. However, if you already have a domain and you bought hosting from some other website, you have to update the name servers.
What is all this?
Well, I'll start with all the basic details here. If you already know the nitty-gritty of what a domain, name server, and hosting are, you can safely skip to the setup section.
Domain Name
A domain name is a name with which people will know your website. The first step in starting a website is to register a domain. You can do this individually or you can buy hosting that also provides a free domain. Enter the domain name of your choice. If it is unavailable, then you may have to choose some other name. If the name is available, purchase it. Now, if you type your domain name, you'll see the landing page of the website from which you registered the domain.
Website hosting
Now, comes the hosting. Buying a hosting plan is like paying rent for space on a server computer. You have a computer too, right, then why pay for some other computer. Well, if your computer has lots of space (storage capacity), huge processing power to handle multiple requests to your website, never shuts down, is always up and running, has a continuous electricity supply, then congrats you don't need hosting. You can host the website on your own computer. For the rest of us, we need to buy a hosting plan. With that, we get access to cPanel from where we can set up our website.
Single vs. Multiple Hosting
A hosting plan can be for single or multiple websites. With the single hosting plan, you need to pay less, but you can host only one website. If you have a multiple-website hosting plan, you get a certain amount of space on the server. As long as you stay within that limit, you can host as many websites as you want.
Setup
Once, you purchase hosting, look for account DNS information. This information is generally available in the Settings or Server information section. What you'll be looking for is either an IP Address or a server name. Copy these.
Now, log in to the website where you have your domains registered. Select the domain for which you are setting up the website and go to the Name Servers part. Click on edit and paste the name or IP Address of your server.
That's it, What you did was asked the domain to point to your hosting server. In simpler words, when someone types your domain name, the domain will send the user to your server and thus your website. You just established a communication between the name of your website and the computer where your website actually is.
Setting up the website
Now, coming to the website. You simply have to select the option of a new website. The next step is to install WordPress. The majority of hosting providers have automatic WordPress installation tools. All you have to do is enter basic information about your website and add a database name that will be automatically created and you are good to go.
Now, you will be able to access your website using yourdomain.com/wp-admin
Registering multiple websites on the same server
Based on your hosting plan, if it supports multiple website hosting, you can host as many websites as you want until you cross the storage limit.
The first website that you add to your server is called a Primary website. For the rest of the websites, you will have to go to the Add-on domains section. Enter domain information and voila, a folder will be created in your public_html folder. You can find this folder in the File Manager section.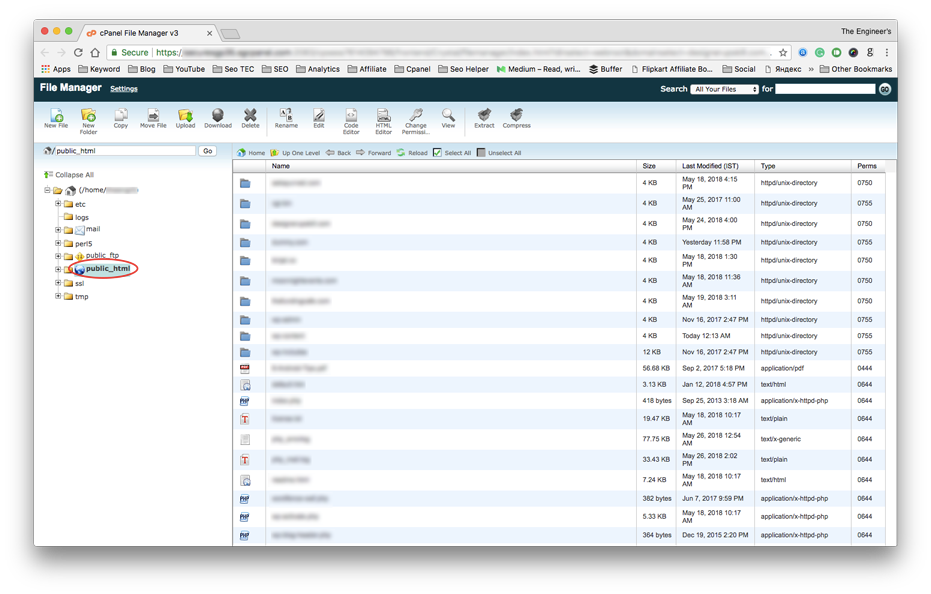 Here, in the website folder, you have to install WordPress again if you want a WordPress website. Or you can simply copy your website folder if it's a regular website.
Installing WordPress
When I say installing WordPress, what you are installing is wordpress.org, which is free and open-source. We have already seen using wordpress.com for your website. At any time you can install WordPress in two ways:
Automatic Installation Tools
In your cPanel Home, look up for Auto installers and click on WordPress. You'll get a screen like the one shown below. Enter basic website information and that's it.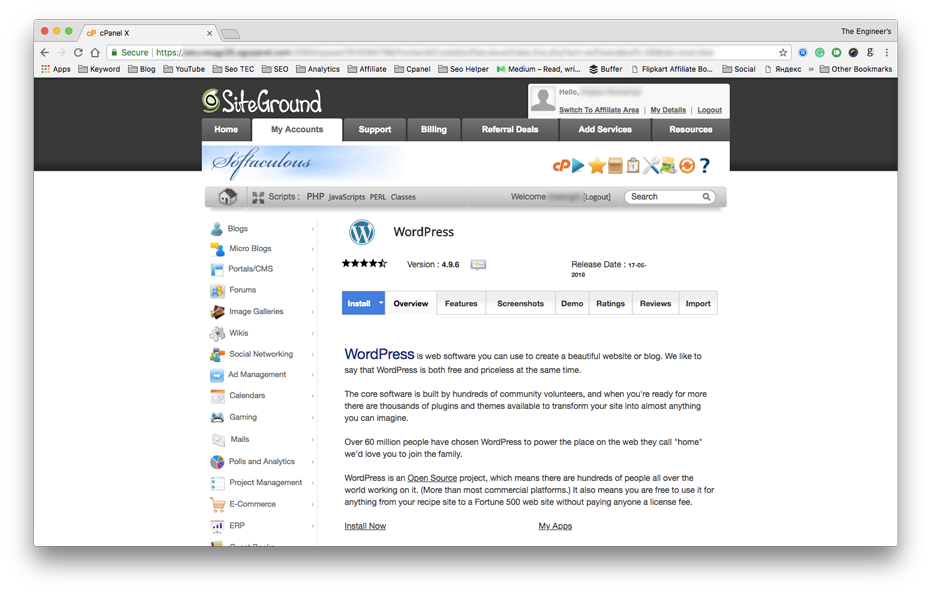 Upload files locally
Use a File Transfer software like FileZilla and upload the files directly to the website directory in the public_html folder. For setting up a connection through FileZilla, you'll need a cPanel username and password. You can save the website settings too so that you don't have to manually enter this information every time. This method is especially useful when your website is continuously changing and you need to upload or modify one or two files every now and then. Uploading via File Transfer software reduces the chances of mistakes, is easy and convenient.
Alternately, you can also directly copy the files to your website directory by logging in to the cPanel and going to File Manager.
Start adding content
Once the WordPress is installed and you are able to access yourdomain.com/wp-admin using the username and password that you set during the WordPress installation, start adding your articles to the Posts section in the Dashboard.
The Admin area of the Dashboard is pretty self-explanatory. Just spend some time with it and you'll be good to go.
Choosing the right options
While WordPress in itself may be easy to learn and adapt to, a user, especially a beginner may be intimidated by the number of options that come in the form of WordPress plugins. While plugins are what makes WordPress as powerful as it is right now, they may scare a new user away or at least confuse him with the plethora of options and services that they offer. Although it's good to make the most use of the plugins and create a wonderful website, you just don't want to overdo it. Every plugin added will take up space on your server and will affect the performance of your website. That is when you simply go crazy with plugins.
I will be writing an article about our initial experience with WordPress in the starting days of The Engineer's Cafe. Subscribe to stay updated, who knows the solution to your recent worry may be found among those words.